Author: Webmaster - Published At: Jul 12, 2017 08:21am EDT -
July announcements:

Urgent request for STC Intercom articles
UX/UI Basics for Technical Communicators, Jul 12
Monthly volunteer meeting, Jul 13
FREE STC webinars, Jul 19 & 26
TE SIG Watercooler Chat: Summit 2017 Revisited, Jul 27
TEAM (Technical Editing Active Member) Rewards Program
SIG Resources
New member welcome
URGENT request for STC Intercom articles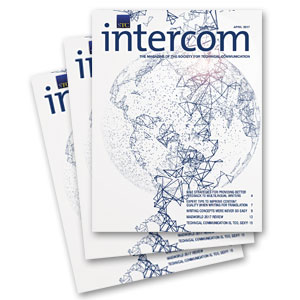 STC is acquiring submissions for the July/August issue of
Intercom
. The extended deadline is July 16, 2017.
The issue's theme is
Technical Editing Fundamentals
.
If you have a submission that you think fits this issue, submit it to
Li-At
,
Shonnell Bacon
(editorial assistant for Liz Pohland at INTERCOM),
Liz Pohland
, or
intercom at stc.org
.
Join TE SIG member Jessica Kreger for an STC webinar about the basics of UI/UX.
When: July 12, 2017 – 2-3pm EDT (GMT -4)
Where:
Online
. Register with stc.org and receive details.
You've got the words down pat, and are a pro at writing and editing. But when it comes to design, well, that's a different story. Fear not, as this webinar in UI/UX design will illustrate the basics of how to use user interface (UI) design to improve the user experience (UX).
Join Jessica Kreger, Senior Manager of Client Training and Education at TradeStation, an award-winning online brokerage firm, as she demonstrates how to enhance the design of mobile and desktop technical communications.
We will use hands-on activities to cover topics that will include:
Basic UI/UX terminology
Visual-verbal connections
Using graphs, charts, screenshots, photos, and video
Translating graphics
Developing personas to guide design decisions
Using designers and design software
Proving impacts to your bottom line
You'll leave the webinar knowing how to talk to and work with UI/UX designers, or apply the basics of design yourself.
See
https://www.stc.org/event/uxui-basics-technical-communicators/
for details.
About the presenter:
Jessica Kreger leads the technical documentation team at TradeStation to publish information that empowers active traders around the world. With over fifteen years of experience in communications, she has worked at Dell, the University of Miami, Carnegie Mellon University, and Alcoa. Jessica is passionate about creating optimal user experiences. She earned a M.A. in Professional Writing from Carnegie Mellon and a B.A. in English from Penn State. She is a Senior Member of the STC and belongs to the Technical Editing SIG.
Join us for our next STC volunteers meeting
When: July 13, 2017 – 11:30am-12:15pm EDT (GMT -4)
Where:
Online
.
Our monthly volunteer meeting . . . get involved with YOUR award-winning SIG! More information is available on our Volunteers Meeting (
http://stc-techedit.org/Volunteer+Agendas+and+Minutes
) page.
NOTE: You must log in before you can see the page's details. And if you haven't done so already, you must also click the Volunteer button at the top.
FREE STC webinars, Jul 19 & 26
STC offers two webinars this month, FREE for members:
Developing Quality and Consistency Guidelines for Financial Services Content
July 19, 2017 from 2:00-3:00 PM EDT
Attend this webinar to learn how to simplify compliance information while ensuring the message stays the same; work with regulatory reviewers to work towards clear and succinct regulatory content, and develop content quality and consistency standards that are easy to use for everyone in your organization.
https://www.stc.org/event/free-stc-chaptersig-member-webinar-developing-quality-consistency-guidelines-financial-services-content/
The Importance of Governance in Regulated Content
July 26, 2017 - 2:00-3:00 PM EDT
Join Charles Cooper, VP of The Rockley Group, for this free one-hour webinar. In this session, Charles will explain the need for governance when creating content for a regulated industry, explain how governance can streamline the process for content creators, and identify the benefits of introducing the "right amount" of governance.
https://www.stc.org/event/free-stc-member-webinar-importance-governance-regulated-content/
Join us for a TE SIG Watercooler Chat: Summit 2017 Revisited
When: July 27, 2017 – 3-4pm EDT (GMT -4)
Where:
Online
. More information is available on our
Watercooler Chats
page.
Summit offered a variety of useful sessions for technical editors. If you were at the Summit, share what you learned with other TE SIG members. If you couldn't make it this year, find out what you missed.
See
http://stc-techedit.org/Watercooler+Chat%3A+Summit+2017+Revisited
for complete details.
TEAM (Technical Editing Active Member) Rewards Program
Nine TE SIG members have earned a total of 30 TEAM Rewards points. Join the fun! Participate in the many SIG programs, meet other members, and earn TEAM Rewards points.
As a thank you for your participation, TE SIG members who earn 10 points in a calendar year will receive a $10 Amazon gift card and a certificate recognizing them as a "Contributing Technical Editing SIG Member" for 2017.
Learn more about the TE SIG's newest program at:
http://stc-techedit.org/TEAM+Rewards+Program
SIG Resources
Be sure to take advantage of the resources available on our website:
Employment Opportunities
Are you seeking employment as a Technical Editor or Writer? The Employment page on our website has hundreds of openings from around the world. We syndicate job listings from multiple sources and list them in a single page for you. They're even organized by US state, country, and world region.
See
http://stc-techedit.org/Employment
for complete information.
New Member Welcome
If you've just joined our SIG... WELCOME!
There are many ways to get involved with the Technical Editing SIG... we encourage you to participate in our webinars and watercooler chats throughout the year. Generally, we hold webinars and membership meetings each quarter. We also have a full schedule of live chats. Be sure to check out our calendar for all of the upcoming events:
http://stc-techedit.org/calendar
.
Don't forget to sign up for our email announcement list (http://stc-techedit.org/Announcement+List) it is the best way to stay up-to-date with the SIG. You can also follow us on social media:
If you have any questions or suggestions, don't hesitate to contact the SIG's leadership. We're here to help you reap the benefits of membership in this dynamic organization. Contact us at
http://stc-techedit.org/Contacts
.